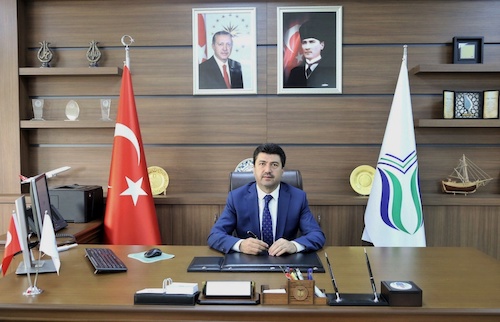 Prof. Dr. Mehmet SARIBIYIK
Prof Dr Mehmet SARIBIYIK was born in Kahramanmaraş in 1969. In 1990, he graduated from Gazi University, Faculty of Technical Education, Department of Construction Education. He worked as Technical Teacher at Eskişehir Yunus Emre Industrial Vocational High School between 1990 and1993. In 1993, he started to work at Sakarya University Technical Education Faculty as an assistant. He completed his Master's degree in Materials Engineering Department in 1996 and his Doctorate in Civil Engineering Department in 2001 at Newcastle University in England. In 2001, Sarıbıyık, who was appointed as Dr Lecturer at Sakarya University, received the title of Assistant Professor in 2003, Associate Professor in 2007 and Professor in 2013.

Sarıbıyık, continuing his career as the Vice Dean of Technical Education Faculty from 2004 to 2011, became the Manager of the Sakarya Vocational High School and the Vocational High Schools Coordinator in 2011. During his office as the Dean of the Faculty of Technology that he took in 2013, he conducted various studies in the field of "University - Business World Cooperation". He led the entities of the Sakarya Synergy Group, where Public Institutions and Civil Society Organizations get together in Sakarya. He pioneered work that has created vision such as 3 + 1 for Vocational High Schools and 7 + 1 Education Model for Faculties, with the aim of producing solutions to the employment problem in company with Industry and Civil Society organizations.

Sarıbıyık, who has conducted a number of scientific studies, run projects in technical and social fields and taken part in the strategic plan and quality processes of Sakarya University, worked as a member of YÖK Vocational High Schools Work Group Member, Vocational Qualifications Authority Construction Sector Committee Member, TÜBİTAK Engineering Research Support Group Advisory Board Member and Sakarya University Central Laboratory Advisory Board Member.

Prof Dr Mehmet Sarıbıyık has published many national and international publications and carried out scientific projects academically. He is married and he has three children. He has been taking office as the Rector of Sakarya University of Applied Sciences since 06.09.2018.